After the cancellation of RATM due to a health problem that led them to cancel their entire European tour, the Andalucía Big Festival team have worked day and night to find a replacement, which has not been an easy task. With the objective of continuing to offer the best to our attendees, we have decided to incorporate three new headliners that will be part of the final line-up of Andalucía Big Festival.

C. TANGANA, FRANZ FERDINAND and SUEDE, new headliners of Andalucía BIG Festival

We wanted to bring more than one confirmation, and we can proudly say that C. TANGANA will be one of the new Andalucía Big Festival headliners. C. Tangana have many names, but he is best known on stage, and we will be able to enjoy his live show as the new headliner of Andalucía Big Festival. A whirlwind that has known how to mix styles such as trap, Latin pop and new flamenco in the best possible way, but, above all, thanks to combine the talent of the right people, becoming one of the most outstanding and relevant artists on the scene.


FRANZ FERDINAND will be the second of the three new headliners of Andalucía Big Festival. From London, and with great songs like 'Ulysses', 'No You Girls' or 'Take Me Out', we are sure that the public will enjoy each of their songs. A thunder that breaks every stage it steps on, pure British fire.



SUEDE will be the third new confirmation. The British alternative rock group formed in 1989 will bring us that brit-pop feeling that we like so much. Masters on stage, the band has the perfect combination with their characteristic image as a starting point, and their impressive live show. This show will be the cherry on top.



Here is the final poster: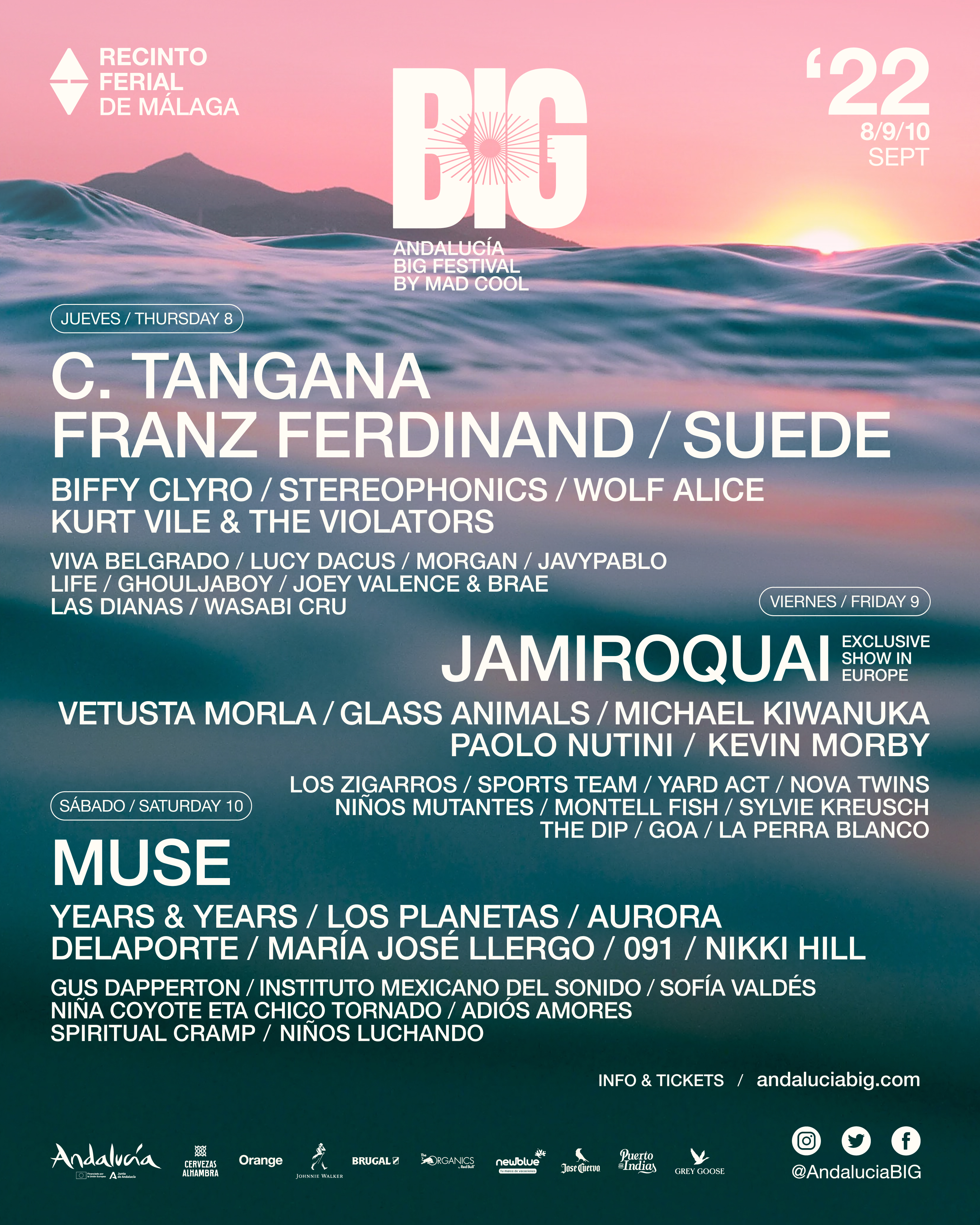 FAQs

When can I request the return of my ticket?
From Monday, August 29th at 10:00 a.m., the refund process will be open at all official ticket partners for all those who request it, until 3:45 p.m. on Thursday, September 8th.

When is the deadline to request the return of my tickets?
The deadline is Thursday, September 8th at 3:45 pm.

Will the booking fee be refunded?
No, booking fees will not be refunded.

How long will it take to receive the refund?
The refund will be effective in a maximum of 15 days from September 8th, which is when the application process ends.

How can I return my ticket at Ticketmaster?
To request a refund, you will have to do it from the Ticketmaster website, following these steps: My account - My tickets - Select Andalucía Big Festival tickets - Need help with this purchase? - Request change or refund of my ticket - Refund due to change or cancellation of the event.

How can I return my Festicket ticket?
You can request a refund by filling out the following form:
https://share-eu1.hsforms.com/1MVinCfo_RaSAarOqqwLPdgexbp9

How can I return my ticket on Entradas.com?
You can request a refund by filling out the following form, selecting "Ticket exchange" on the first screen.
https://centrodeayuda.entradas.com/hc/es/requests/new/

How can I return my ticket at Andaluciabigtickets/Enterticket?
You will have to fill in the following form: https://venta.enterticket.es/eventos/andalucia-big-festival-578457/devoluciones