BUS
Line 20: Alegría De La Huerta – Alameda Principal – Los Prados, until 00.15h.
Line 1: Parque del Sur – Alameda Principal – San Andrés, until 00.00h.
Line 4: Paseo del Parque – Tiro de Pichón – Cortijo Alto, unitl 00.00h.
Line 19: Paseo del Parque – Campanillas (por Ortega y Gasset), until 10.45pm.
Line 22: Av. Velázquez – Tiro de Pichón – Universidad, until 10.30 pm.
Line N3: Paseo del Parque – Campanillas, It will work on Friday and Saturday nights from 00.30h until 02.45h.
Special Service EMT – Camino San Rafael – Centro de Málaga from 7.30pm until 3.30am.
SHUTTLES
There will be a shuttle service to return from the festival. Its schedule will be from 01:00 a.m. to 03:00 am.
Its route goes from Avenida Ortega y Gasset (next to the trade fair palace) to Avenida de Manuel Agustín de Heredia (bus stop).
On the map you can see where they will be located.
RENFE - CERCANÍAS
You can choose between two Cercanías lines that will leave you at Victoria Kent station, the closest to the venue, less than 20 minutes away on foot:
Line C1: Málaga‐Centro‐Alameda ‐ Fuengirola, will operate on its usual schedule.
Line C2: Málaga‐Centro‐Alameda ‐ Álora, will operate at its usual timetable.
METRO
You can choose between Line 1: Andalucía Tech – El Perchel and Line 2: El Perchel – Palacio de Deportes. They will work at their usual time, ending Thursday at 11:00 p.m. and Friday and Saturday at 01:30 a.m. The nearest metro stops are a 30-minute walk away.
TAXI
If you prefer to go and return sharing a taxi with your friends, there will be designated areas near the venue.
Check the map to see the areas where they will be waiting.
PERSONAL VEHICLE + MOTO PARKING
Near the venue there will be multiple spaces where you can park your personal vehicle, be it car or motorcycle. On the map we point out the closest parking lots.
Take a look at the map so you don't have any doubts!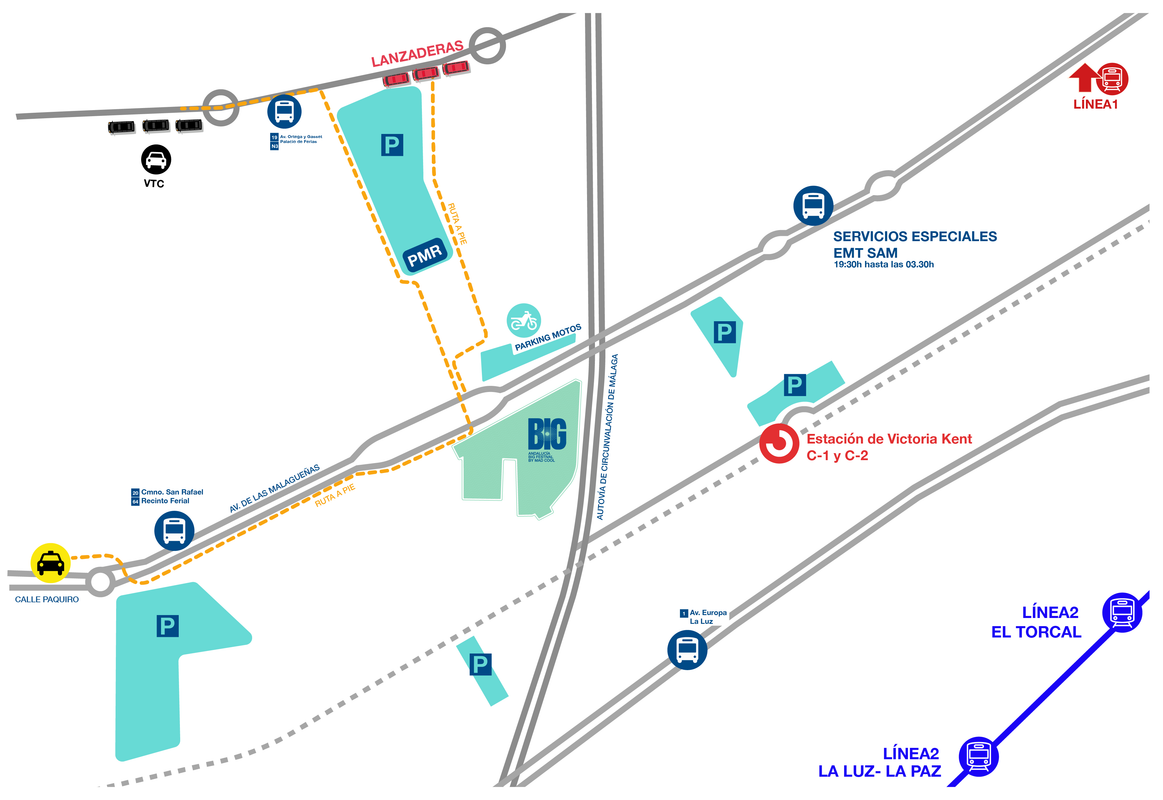 More info:
#AndaluciaBIG